Tantus makes some of the best silicone products in the world. Especially when it comes to firm silicone butt plugs. I reviewed the similar Tantus Juice earlier and I loved it. This time Tantus Twist is put through its paces.
Sharing the overall size and finish of its cousins Tantus Juice and Neo, the Twist is perfectly sized for effortless anal play. It has a fantastic base that gently rests in between the butt cheeks and the surface finish on these plugs are to die for. Even though the silicone itself is very firm, it's finished with a satin feel that makes it less draggy and it also seems to hold on to lubricant better than the smooth glossy finishes. As it's silicone, it's of course body safe, non-porous, odor free, boilable, bleachable and almost non-destructible. It does have a faint mold line through the side, but it's just barely there. Other than that, the plug looks fantastic, with the smooth spiral form and black or purple color. It looks a bit scary at first, but trust me – it's not.
It measures 4.5 inches in length, with 4 inches being insertable. The circumference is 4.5 – 2.5 inches.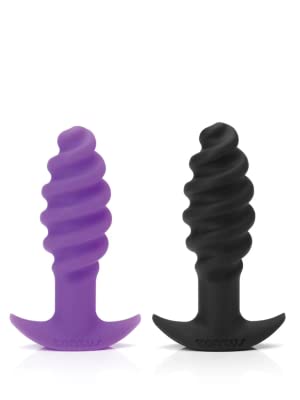 It's very light and comfortable, with lube it gets super slick and fairly easy to insert. It doesn't have a pointed as the other plugs in the line, so it requires slightly more effort. I tried twisting it into place bit this was not too comfortable without lots of lube so I find it better to just push it in. It feels bumpy in a good way, so that's ok. When inserted it feels incredibly comfy. Not very intrusive, but it has enough presence to make itself know. The base is divine, and the best in the industry.
Other than that it's very straight forward and simple. Twist it for an enhanced stimulation of the anal sphincter muscles. It's a bit tricky to handle when fully inserted, just because the base offer such a snug fit.
Compatible with any lubricant, it's a pleasure to use. I recommend Wicked Jelle which is perfect for the task. After play time, silicone is simple to clean requiring only soap, water and a bit of toy cleaner. Don't have a toy cleaner? Just boil it for a few minutes now and then to keep it fresh.
Tantus Twist comes in a standard Tantus packaging which is tastefully executed and colorful. I like that it's so straight forward and friendly looking. It's also fully recyclable as its cardboard and plastic. It's a bit flimsy though, so nothing to keep for storage. The only thing I miss is a seal.
Tantus Twist Overall
This is a fantastic plug. The design is great and so comfortable. Did I mention that base? The best I have ever had between my butt cheeks. Other than that, it isn't revolutionary in any way, except that it can be twisted for added stimulation. Or screw it in and out as you please. Its a quality plug for every butt. Too scary looking? Try the Juice. Well done Tantus!
A silky smooth silicone plug that is easy and comfortable to use as a standard plug, but it holds hidden powers and can literally screw itself into the butt. Use it wisely to stimulate the anal opening.