Tentacles are cool.
Call me an otaku-wannabe if you will, but there's just something so alluring about the tentacle trend that exists out there. The curvature, texture, and potential that tentacles inspire is admirable and definitely makes my body squirm with anticipation.
So I'm always giddy when I get to review a tentacle product, especially when it's essentially a dildo made out of glass.
The Pink Tentacle Pyrex Wand
Glass might not be an 'obvious choice' for a tentacle toy.
After all, tentacles are pretty much the squishiest thing that you can find in nature (anyone who has held an octopus can vouch for this for me), but glass does have its benefits especially when it comes to tentacle-based toys.
Why is glass so good for tentacles? Well, firstly when people think of tentacles they also think a slimy or mucus-like residue which might add to the sensation of the tentacle. Glass is easy enough to lubricate up and then feels incredibly slippery – sliding effortlessly in and out of the body. This slick and seamless element of glass evokes the sensation of a slimy tentacle even if it doesn't mimic the texture 100%.
Speaking of texture, glass is great for having a reasonable amount of texture while still also being quite forgiving on the body due to how easily it lubes up. Glass requires minimal lube in order to be quite body-friendly and this means it can actually be a very good entry level material.
Glass also transfers temperature quite well, which means you can have glass toys that are either warmed or cooled, adding to the sensation of using them. When it comes to a tentacle you can thus either imagine that you're experiencing the chilling touch of a creature from the icy depths or the swarming rage of a creature so big and muscular that its very tentacles release warmth in to the body. Or you can just enjoy the texture and temperature. The choice is yours.
When it comes to the Pink Tentacle Pyrex Wand, the Pyrex glass used means that it is shatter-proof, easy to cool or heat, feels wonderfully sturdy and is relatively light.  The wand description may be a bit misleading to some as you automatically think of a Hitachi Magic Wand type vibrator, which this is most certainly not.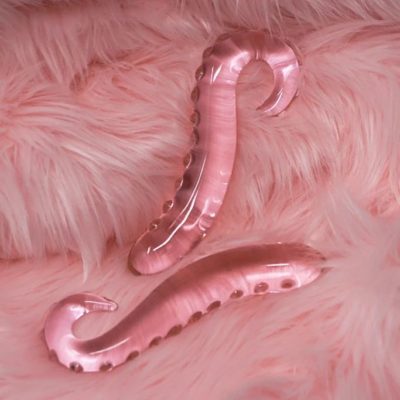 The light baby pink used for this tentacle mirrors its gentler tentacle texture – which is reserved to some bumpy nodules on the top side of the dildo's curve and some gently raised V-lines on the bottom section if its tip.
Flipping this tentacle allows you to experience its texture, curve, and length in different ways, but I always prefer using my toys with an upwards curve by default before playing with the down angle.
Having said that, I really enjoy flipping this particular toy on its head (so that the curve tilts down). Why? Because those raises V's feel absolutely divine against the G-Spot and upper section of my vaginal wall, allowing the bumps to massage the rest of my body as a passive reminder of the tentacle'd nature of this toy. Tentacles have their suckers on the bottom section after all, right? So using the toy this way is hardly heresy.
Hitting my G-Spot
Using it with the tentacles and the curve hitting my G-Spot is also lovely too. The Pink Tentacle Pyrex Wand is quite a slim dildo (1.2 inch diameter), meaning you can wiggle, thrust, and twizzle it to your heart's desire, which makes things even better during use.
This slimmer design also makes it a great entry-level glass toy for someone who is thinking about glass textured toys but aren't too sure how their body would handle it.
The texture itself is nicely understated. It's gentle and works well to give a taste of texture without being overwhelming or otherwise grating. Some toys go a bit crazy with the amount of nodules they use but the Pink Tentacle Pyrex Wand keeps things happily minimal, making a toy that looks delicate and feels almost smooth during use.
Don't get me wrong – you can feel the texture, but it's not going to leave you feeling overwhelmed or out of your depth when playing with this creature of the depths.
The Pink Tentacle Pyrex Wand has the benefit of being non-porous, phthalate-free, and completely body-safe due to its glass material and it even comes with a lovely little storage bag, which is nice.
There are very few downsides to this toy but, if I were to pick something out, I'd have to say that the added nodules on the twisting handle of this toy are probably unnecessary.
Sure, you can flip this toy around and use its lovely little loop to caress your clit, a coronal ridge, or similar, but the nodules are spaced quite far apart so it's not optimal for this type of play.
It also feels a little uncomfortable holding the loop with these nodules in place, so it's certainly something that could be ditched and you would probably have a better sex toy as a result.
The toy itself looks aesthetically very pretty and feels like a cute and gentle contribution to the tentacle toy trend. It's very clearly tentacle inspired but it's not tentacle dedicated. It's almost an abstract rendition of what a tentacle might be like if a classy artist decided to make a tentacle sex toy in their own minimalist manner.
I love the curve of this toy and feel that it's just about right for both visual appeal and in-use effectiveness. It's especially effective when using that wiggle method that I mentioned before (feel free to use that little tip if you want).
Final Thoughts
Would I recommend the Pink Tentacle Pyrex Wand? Sure, but I do think that it's a toy for a more playful session rather than very deep and immersive experiences.
I orgasm powerfully with this product. The glass works very well with the texture and angle, but this toy is still rather slim and minimal on nodules, which some people will dislike.
This toy also has that 'tentacle lite' look which might leave some tentacle fans pining for more.
As a toy I really can't fault it and I'm very happy to have it as part of my collection. If I were to buy this toy I'd be happy with its performance and consider it money well spent, but that's because I am more than happy to keep my internal toys petite at times.
If, like me, you like the idea of a tiny tentacle then I would definitely recommend this toy, and I feel it's a great addition to most people's glass collection.
Recommend to:
People who like glass toys.
People who want to try glass toys.
People who want to try texture/tentacles.
Do Not Recommend to:
People who dislike smaller toys.
People who dislike glass.
People who dislike tentacles.