When my sexy package had arrived, I was greeted by a smooth black/grey LELO rectangle box. Opening the outer packaging, I slipped out the plain black matte box, which had a simple 'LELO' title on the front. Lifting the lid off, I was surprised to see a black and silver smooth Vibrator, which had a silver brooch sat neatly under the vibrator. At the end of the box, there was a hidden section which homes the charger and user manual.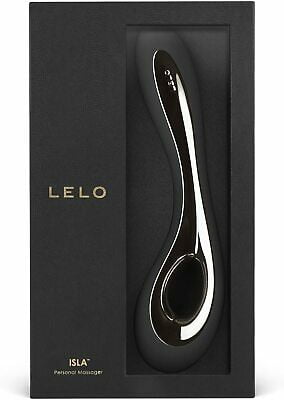 Taking the Isla out of the box, I found it very smooth to touch, silky in fact, it's silicon exterior is very welcoming. It isn't obvious at first, where the charger fits into but at the base is practically an 'invisible to the eye- notch', where the charger slips into. I was worried that this would vito out the water proof factor of this toy but after carefully reading the manuals and doing a bit of online research, you will find that this hole self seals, without issue, although it only has a water proof depth of 1 meter or so, ideal for the bath but I would be taking this toy deep sea diving, any time soon.
I can understand when LELO says that this little beauty's silhouette mirrors a female's form, it slips in with no issues. You can feel the silky smoothness of this little gem, as you slide it in, it actually even hits the G-spot without any effort.
Made from 100% medically graded silicone, this vibrator is body safe, phthalate and latex free, waterproof and non-porous.
Be advised though, that this vibrator isn't for the faint heart! It has 6 speeds, which you can flick through via the middle button. There are up/down speed buttons, which intensifies or weakens the strength if the Isla's vibrations. I ain't kidding when I say the Isla WILL make your bed rock!In fact, this toy is the first that I have come across, where you can adjust/control the vibration's speed/strength, which is very welcoming and pleasant.
With a finger loop at the end, I found it easier to hold this toy in place, leaving a thumb free with access to use the Isla's controls.
The Isla comes with a satin storage bag, which is good if you wanted to take this playboy on your travels. It's also good, as it is said that silicone reacts with silicone, although LELO products are treated, so that they do not. But for me, I find it easier to keep this vibrator in it's box, along with the charger.
Over all, this toy gets top marks from me! Anyone weary of spending £90.00 odd, shouldn't be worried with parting with your cash for a LELO product, especially the insignia Isla, well worth every penny!
Keep your LELO sex toys clean with our range of cleaning products