OK, so when it comes to the basics, you've been there, done it, but hopefully not bought a t-shirt! It's time to go that little bit further and spice up your bondage even more…You've probably started with being tied up and then whipped with feathers, but the advanced couple wants that little bit more. And rightly so! Get ready to discover the whole new next level of bondage techniques, ready to tickle your fancy.
Do as you're told
Discipline is key in bondage, but that doesn't mean just tying somebody up and slapping their bums a bit – it's all about making your pupil willing and able to do what they need, in order to get what they want.
Be dominant and give your lover tasks to do – if they don't do them properly, you start again and they are left waiting. Bring in sex toys if you want your lover to give you a little show, and tell them exactly what they have to do to themselves, and make them describe the feelings.
Try new positions and order your lover to get into them or they will be spanked, and move them into the positions that you are all about you; afterall – you're the boss.
Here is one of the best bits; you can use your power to make sure that your lover becomes an expert at oral sex. If they don't, then they will practice until they do. Bark out your orders and punish them if they don't obey.
Spark the senses
When one sense is restricted, the others become heightened, and sensory play is a great part of bondage that will heighten sensation and mess with your mind. Stimulation is key and experimenting with all different times of sensory play will make you feel things you didn't know were possible.
A blindfold is the obvious choice, and you can even make them cover their ears with headphones so that anything you are about to do isn't given away.
Temperature
Hot and cold is a great spark for the sense and don't be scared to go between the two temperatures. Use cold, glass dildos and ice, or use massage candles and drip them all over your lover's body. Backs will arch and moans will be heard – but have you given permission for either?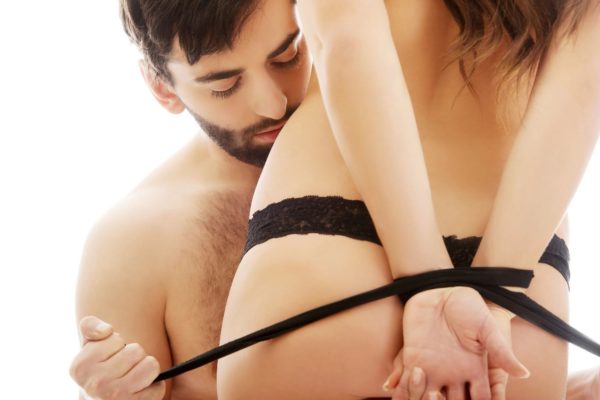 Pleasure and pain
The pain of a slap followed by the tickle of a kiss is one of the biggest turn ons in bondage. The way that the body reacts to pain by releasing adrenaline, before dropping dopamine into the blood gives a natural high, which is why this kind of play in the bedroom is so exciting. Nerve endings stand to attention and the pleasure part becomes even better.
Give a massage followed by a spank, or use a feather tickler and a spanking paddle one after the other to create the ultimate pleasure/pain combo.
Tie up, tease, do whatever you please…
Teasing is a part of bondage that makes people constantly come back for me – there is nothing sexier than having the thrill dragged out without actually climaxing. The mind races as to when the climax is going to come, and when it does, it tends to be much more intense.
Play with your partner whilst they are tied up and push them right to the edge, before slowing down and bringing them back down to earth. As they are bound and tied, there's nothing that they can do about it except have their excitement levels constantly played with.
Let them play with themselves, or don't let them, the choice is yours and all depends on just how much power you're happy to let them have. Make them beg for that orgasm and make it clear that they will only have it when you say.
Make sure that your lover keeps you in the loop to how aroused they are, or that climax will come to early and you will have to start all over again… Some may not think that's a bad thing…