One of the latest onacups from Tenga is the reusable Air-Tech series. It channels air in a special pattern around the sleeve, and that makes for some very interesting sensations. It's very different from the other male masturbators on the market.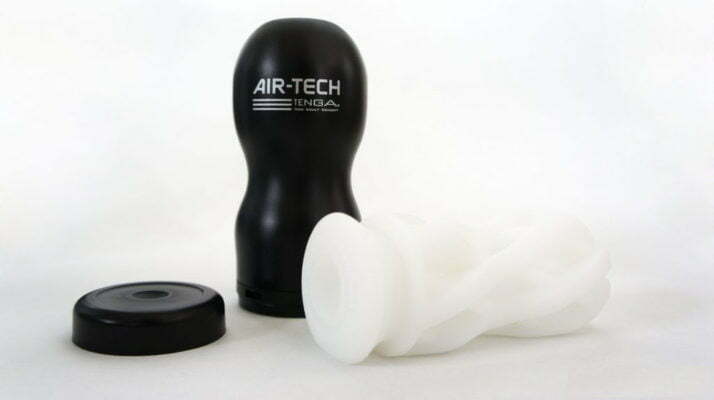 I like Tenga. Their products are always stylish and functional. They focus on practical design and effortless pleasure rather than realism. They offer so-called onacups for everyone, but I have always been kind of grumpy because these are designed for one time use only. I can see the benefit in terms of simplicity and hygiene. Still the price has been a bit steep for one orgasm. I haven't really been able to justify purchasing them. Tenga Air-Tech Masturbators is a new line that builds on the same principle but extends the life with a reusable sleeve.
What's special about Air-Tech is that it has a removable sleeve, that can be turned inside out for thorough cleaning. It also has spiraling ribs on the outside, that guides the airflow for a snug fit. It's delivered with lubricant for a round or two, in familiar Tenga fashion.
Tenga Air-Tech Sleeve
Tenga Air-Tech is just as easy to use as the eggs – simply remove the wrapping that seals the product and the sticker at the top to open the air vent. Remove the little lube tube that's inserted into the sleeve. Lube up and push through the orifice.
The insides are lightly textured, and quite a bit less exciting than the Flip Hole for example. Air-Tech Strong has simple ribs in different sizes. Still it manages to produce a unique sensation. As the name implies, Tenga plays with air and vacuum. The sleeve is designed to release air from inside the case on penetration and fill air around the sleeve when pulling out. This keeps it nice and tight while preserving the simple texture at all times.
Tenga Air-Tech Sleeve Texture
By covering the top hole with a finger, the suction is so strong that it's hard to get any kind of movement going at all. By allowing the air to flow freely, the sleeve almost acts to push the penis out by itself. It's a neat feature and I like that it keeps things tight yet still very well cushioned.
Even though this is the strong Air-tech, I think it's really gentle and soft. It's like fucking an airy pillow, and yeah it's great! The only thing I can point out as a negative is the usable length which max out at 16-17 cm. There is an Ultra Size available, and a review will follow shortly. It's sturdy and light – I find it very comfortable to use and the grip is great. The texture feels almost plain, but it doesn't make it any less satisfying.
Cleanup is super simple as the sleeve is turned inside out and rinsed. Soap is not its friend! Dry it with a towel on both sides and twist it back into the casing. The end cap does not want to stay in place very well, but that doesn't matter too much. As with other Tenga masturbators, the sleeve material is fantastic. Not oily, not sticky – it doesn't stink and it is super squishy albeit slightly rubbery on the surface. It holds up very well after use too. I like it a lot.
Tenga Air-Tech Strong overall
Tenga's small onacups really impress me. They can't match their big brothers, but offer unique advantages. Air-Tech is practical to travel with, wonderful as a present and the price makes it a great starter toy. Perfect for those testing the waters or those who enjoy the more simplistic stimulation.
Tenga Air-Tech is also available in Gentle and Regular models as well as Vacuum Controller compatible models.
Finally a reusable onacup from Tenga. It's simple and light, perfect for travel or as an entry option. It's not heavily textured but squishy and with a powerful suction. It's pretty neat, but it looks better with the plastic wrapping and the cap won't stay on. There is room for improvements.