This has been requested for a while, so here it is. Brent Everett's dick.. the dildo! It is a life cast made by Fleshjack and it is pure glorious silicone. It's big, firm and fun.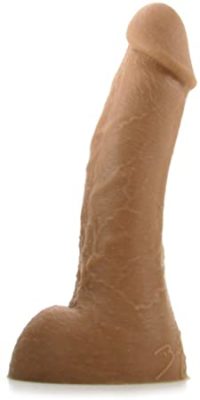 The Brent Everett dildo is another one from the Fleshjack Boys line of sex toys, cast directly from top gay porn performers. You may be interested in my review of the Samuel O'Toole dildo as well.
I think there are no gay guys in the world (that watch porn) who have not had a little crush on Brent Everett. He's a handsome guy with a cute boyish charm, a great body and a big beautiful cock – and he does art. This dildo is accompanied by a set of Fleshjacks. They come with a mouth or butt opening, also cast from Everett himself.
Unlike my last encounter with "Brent Everett's cock" this one is actually made in body safe silicone, which does not smell, is body safe, not sticky and it can be properly sanitized (ie dishwasher, boiling water or bleach). It comes in a pale skin color that somewhat resembles the real deal.
The measurements are as follows: Length is about 8″ (20cm), usable length is 6.75″ (17cm) with a circumference of almost 5.5″ (14cm) increasing to 6.25″ (16cm). It's certainly a large toy, and it stands proud on the desk beside be. Like Fleshjack dildos in general, this is a truly detailed cast. Even the tiniest crevices in the skin are included and small veins and bumps are reproduced with amazing detail. This is what truly sets these dildos apart from the other life cast products out there. It is also pretty squishy and flexible, I like it.
One thing I noticed is that this dildo does not seem too familiar. If you have ever watched Brent Everett before you will see that it clearly is his cock, but the head is not at its most glorious moment. It's a bit less full than I am used to seeing, not that it matters much. You can see comparison images here. Its probably just as well because it makes the insertion easier.
Experience
Because of the detailed texture this dildo does produce a bit of friction. It requires a good amount of lubricant, and a thick one at that, to get the most out of this as a thrusting toy. The head is nice and pointed and slips past the sphincters with a small bump and a little pop. From there, it's pretty much smooth sailing down towards the base. It gets gradually bigger and provides a feeling of fullness with a bit of a stretch.
Fleshjack Boys Brent Everett Dildo
I use it with the head pointing towards my prostate for some gentle stimulation and the other way around for thrusting. It's a great toy at that, which mainly comes down to its size and gently curved shape. The big balls are great to grab onto and use as a handle, but it is even better to let it stand on its own and squat over it. It is pretty sturdy because of the smooth base.
It is easy to clean, as all silicone dildos are. Soap and warm water, sex toy cleaner and you are done with basic maintenance.
Overall
I am pretty pleased with my new porn star. After feeling a bit bummed when I first saw the shape, I learned to appreciate it for what it is; A great quality dildo in the exact shape of Brent Everett himself. Now we just need to get those replica Realdolls done, eh? It's a great dildo for thrusting and if you want something that feels filling yet does not stretching any limits too far. I like the gradual increase in girth, it offers a chance for variation in use. So the verdict is clear. If you fancy Brent Everett, do yourself a favor and get this. Most definitly do NOT get this other one right here.
I think it's wroth mentioning that the value is really good for these dildos. Not only do you get an impeccable quality product, but it is also a real licenced one at that. AND it even comes with a Brent Everett post card and a sample sachet of lube