Once opening the package, I was greet with a sleek looking black and white box. The front cover shows a picture of the product, on a white background, with a simple 'ICICLES – hand Blown Glass Massager', written on the front. Each side of the box has a picture of this toy from different angles, the back of the box displays a simple description of the product. The front of the box's cover, opens up to display the product through a clear plastic window. When removing the item from the box, it is encased in a Styrofoam mold. I like that you can keep this glass dildo in the foam/box for safe storage.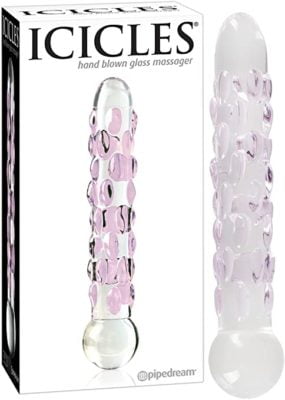 The No. 17 is made of smooth, hypo-allergenic and body safe glass dildo. It is also dishwasher friendly, which makes it easier for a person to sterilize. There are no grooves or indents on this products, which means it's pretty easy to clean.
The glass is a deep blue in colour, with a clear top that is round shaped and has a beautiful flower within. It's truly beautiful for a sex toy, in my opinion.
You can use the No.17 for sensual massage play or as a dildo. The product is made by 'Pipe Dream', who state that you can use this for virginal and anal play, although I wouldn't be tempted to use this for anal play but that's a personal opinion. The No.17 is sleek and curved, making it a toy for g-spot fun!
The glass warms up slowly, once in contact with the skin, I first used this as a massager, which feels divine, especially when you let it rest in a bowl of warm water for a few minutes. I would suggest you give this a try, at the end of a tired working day, get your partner to warm it up and then start by using the top round end, starting from the base of your neck, down the side of your spin, slightly pressured. Then use it in a rolling motion, it feels great!
I then tried running it under cold water, before using it for vaginal play. Icicles is a product name that really does describe this toy to a tee! The chill, when it contact with my lady parts, was a thrill, tantalizing, all that combined with hitting my gspot, made the experience a very good pleasure, indeed!
I like that the No.17 has a flat/slight flared base, which makes it easier to keep hold of.
Specifications;
length – 8"
Width – 1" (around the stem)
Girth – 5"
Material – Glass
The curves in this toy, make it wonderful but I can't help think that it would be even better if there were a few added ridges, to make the bedroom experiences slightly better than it already is!
I would highly recommend the Icicles No.17 to anyone venturing into glass play, I don't really have a bad thing to say about it. Use it as a simple massager or as a sex toy, dual purposes, to which will both leave you wanting more.