To Start With
It is an acknowledged truth worldwide that buying lingerie for that special woman in a man's life can be the trickiest task for a man. The exceptional lover may know all about his woman but still a bit unsure about her lingerie. The market is stocked with multitudes of designs and styles. There are categories like the Natural lingerie, Sporty lingerie, Elegant lingerie, Designer lingerie, Sexy lingerie and lingerie for special occasions like Bridal lingerie, suspenders and garter belts for sexy stockings. They form the general and broader lingerie lines where one type might overlap the other. Natural can be both elegant and designer, or a designer can be sexy and elegant or yet be sporty.
Tip one – Basic choices
Women would of course be delighted to be gifted with lingerie especially by her passionate lover but if not chosen wisely things may go sour. The inner knowledge that her consort thinks and remembers her out of the bedroom makes her feel more precious and special. So learning the basics about different types of lingerie is a top priority before a man is all set out to purchase them.
Natural lingerie focuses on being more basic and comfortable. They are for practical use without hindering by way of being tight or making breathless. Quality and simplicity makes them the obvious choice by most women for day to day use. Modern and trendy women who prefer the natural look are totally smitten with the Natural brand of Darjeeling lingerie.
Sporty lingerie is designed for supporting the bodyline of women without giving away anything under her outer wear. Prada and Sloggi have quite a b hold in the sporty lingerie which does not hinder the lifestyle of women who have an athletic figure.
If the woman is of more sensual nature, then elegant lingerie is the natural choice to accentuate her sensuality. Elegant lingerie has so many soft styles and has a larger selection that comes with it. Without being too erotic a woman can exude subtle charm and poetic appeal with her elegant lingerie. The most sought after brand is the Chantelle's Riviera . The style and cut of elegant lingerie often reflects designer lingerie.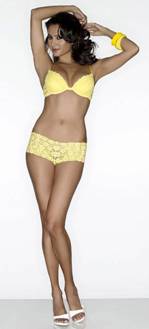 Designer lingerie is for women who liked to feel and look special always. They love being cherished and will go geek with delight when her man takes effort to satisfy her with a designer lingerie. Style and charm is more important than comfort and durability. Versace, Gabana, Agent Provocateur and Dolce are some of the famous manufacturers in designer lingerie.
Sexy Lingerie at Ododi.com
Sexy lingerie is a wide range to choose from. It includes Baby dolls, Teddy nightwear, Corsets, Bustiers, Camisoles to Chemise. Thongs and G-strings excite the male in buying them immediately but he has to control his emotions before rushing towards such a choice. It is not always that women like sexy lingerie and when particularly chosen by her man, she would also be keen on finding about his opinion about her body features.
Special lingerie like the bridal lingerie is designed for that one occasion where she feels special, exquisite and highly romantic as well. Almost all the manufacturers have their special section for bridal lingerie. This lingerie is a combo of design, elegancy, style and sensuousness. The romantic mood is highlighted with its choice of colours ranging usually from white, cream to lacy.
Tip Two – Attitude
It is important for a husband or lover to keep in mind that his wife or companion is not the porn star he sometimes happens to see in videos or movies. He has to be absolutely sure that if his lady would like the laces and a more open, erotic lingerie such as sexy costumes and fantasy outfits. So it is an unsaid rule that never one should buy them for gifting on a Valentine Day or for Christmas or for a birthday. Glamorous lingerie is that little something extra which softly lingers and improves the mood. Most of the women do not like obviously dangling bits and pieces and bright colours like red and green. A woman's mind always appeals to soft, sexy and stylish lingerie which do not disturb the quality and feel. Seductive materials like soft silk and satin is an all rounder every time.
The male who decides to buy the lingerie should be more confident about the difference between seductiveness and sexiness. When deciding to impress one's lady do not be brash but be bold. She would always prefer you to think her as more stylish and respectable.
Most women would love to have a matching set of lingerie which they would like to pose in the intimacy of the bedroom. So getting a matching panties or thongs along with them would enhance the intimacy and magic between the couples.
Tip Three – Style
Obviously the next thing would be to know the style preference of the woman. Every lady is unique and has her own set of choices on the lingerie she prefers on wearing. As this is the most intimate piece of clothing to which no one else would have a clue, the lover should make his choice carefully. Some women prefer to be always modest and think more about comfort. It is better not to shock them with lacy and revealing lingerie which they may not like.
If the woman is bold and has a taste for being inquisitive, he can delight her with all the sexy and elegant lingerie. As far as thongs and G-strings goes, a heavy set woman may not like to wear them as they reveal more flesh. She would prefer to go for briefs or boxer shorts. They are sexier as well as more comfortable. Make sure of the type of fabric the woman likes to wear too.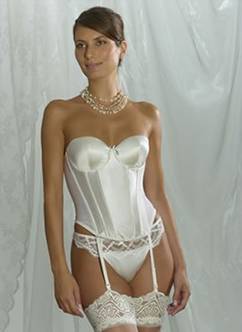 When the man is too unsure about his woman, it is better to go for a Baby doll with a matching panties or even a camisole. Teddy nightwear is balanced between coverage as well as style. Camisole and chemise can be both a nightwear and an outer wear depending on the design.
Always one should remember about his girlfriend's natural taste in her lingerie. Do not overtly disturb her regularity so she might never use your gift but tuck it off safely in her drawer. Usually, quick rifling through her underwear gives a better idea before purchasing, if the male wants to surprise his woman. He will get a good understanding about her likings with respect to style and design. If she has some tight undies or thongs you can present her with the same choice or guess from the type of dress she usually wears. Women who are used to revealing choice of dresses will not rebel against more revealing lingerie. Open cup bras and G-strings may not disturb her sense of modesty.
Tip Four – Sizing
Size matters a lot when buying lingerie for one's special woman. All the trouble and effort put into the selection of design, cut and colouring may simply go waste if the size does not suit.
Usually the sizing of the lingerie is decided by the chest size and the size when measuring full breast. It is either 32 or 34 and goes on with a cup size increasing by A, B, C and D with every 2 inches. One can find a bigger cup size corresponding to a bigger breast size. Panties might well be labelled as S – small, M – medium or L – large.
There are two ways of making sure the size of the woman. Either one can find it by rummaging her closet or just plainly confronting her openly. If the man wants to obviously surprise his girlfriend, he can easily ask the shop assistant to help in choosing by referring to a resemblance of some celebrity or movie stars.
Do not offend the woman by picking a wrong size, if she is a wife or have been living with her for a long time. Take clean lingerie of hers to make sure of the size. The right size will clearly flatter her and make her think that the man is thorough in his intimate knowledge of her.
To impress a woman, keep in mind her comfortability and likings in all factors like style, design, size and material as well.
Tip Five – Colouring
The right choice of colour can also play an important role, when buying lingerie for a woman. If she does not like it, she may not be blatant in telling but simply avoid or refuse to wear the gift.
When the lover is not too sure about the colour, it is best to go for light pastel colour, or black or in fact even white and skin colour which will never fail to appeal to a woman. Do not be brash in buying red or pink if you are not absolutely sure about it.
Tip Six – Presentation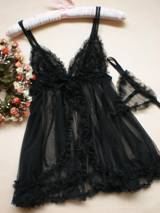 Woman like the way her lover presents his gift to her. She feels the passion and love of his feelings towards her in this simple gesture. One can wrap it attractively and add a simply mischievous or romantic note or can also have something naughty like a body lotion or flowers accompanying it. The implication a lover sends with his gift of lingerie helps in ensuring something more enduring and romantic.